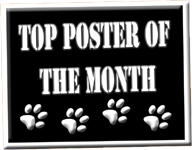 Congratulations to our Top Posters for the following months!
March 2014: Alice Kable
April 2014: 2bullymama
May 2014: 2bullymama
June 2014: davidh
July 2014: Julie Stevenson
August 2014: davidh
September 2014: Schimpfy
Keep up the great work!
The challenge is on, can you be our next Top Poster of the Month?