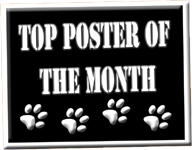 Congratulations to our Top Posters for the following months!
October 2014: blushy
November 2014: davidh
December 2014: Tgirl
January 2015: blushy
February 2015: Jakeyjake
TOP POSTER OF THE YEAR 2014: 2bullymama!
Keep up the great work!
The challenge is on, can you be our next Top Poster of the Month?