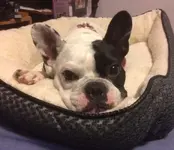 We know, Coco may be one of the cutest dogs ever to hit the available page, but she has a very specific list of requirements for her new forever home, so keep reading!
Coco is a bit of a diva but with those looks, she can get away with it! She simply loves her people and wants to be close to them at all times. She loves to sleep and if left to her own devices, will spend the day snoozing away. Coco also loves a good walk around the neighborhood before returning to snoozing.
Coco is four years old and weighs a svelte 20 lbs. She is both house trained and crate trained (although the crate isn't her favorite place to be!). She will do almost anything for a treat and has her basic manners down pat.
Living with other dogs (or cats) isn't really high on her list of what she's looking for in a forever home and she needs to be an only dog. Coco is deaf, which can cause her startle and react by nipping and biting. It not an aggressive act, it is more of a reaction to being startled, but for that reason, she must go to a child-free home and her adopter will have to sign a bite waiver.
Her new family must have experience with deaf dogs and have a calm, consistent home environment so that Coco can avoid being startled. She will need slow introductions in her new home and time to decompress.
Coco has low thyroid levels and takes medication to regulate her thyroid production. She was also treated for Lyme while in foster care.
Coco does not need someone home all day – but she'd love it, obviously! She also prefers a fenced-in yard in which to do her business (she's not a fan of doing her business while on a leash – we told you, some diva behaviors with this one but she's cute, so we'll let it slide).
While Coco has very specific wishes for her new forever home, we know the perfect family is out there. She is currently being fostered near Portland, Maine. Be sure to fill out an adoption application! Her adoption fee is $300.
View attachment 4816
How To Adopt:
Please view the adoption process and fill out an application at their website ---> snortrescue.org
To view more available Frenchies from this rescue, click this link ---> S.N.O.R.T.
Thank you for considering adoption for your next family fur-mate!
Please tell them you found them on French Bulldog News!