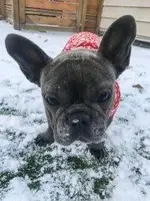 Hi, my name is Faye. Miss Faye is a very special, precious girl. Her standard bio would read that she is 2.5 years old, spayed, almost potty trained, current on her vaccinations, has seizures (well controlled by medication) micro chipped, friendly with dogs, is a great eater, loves positive training, and enjoys giving slobbery kisses. But to love Faye is to know that she has had a very traumatic, abusive past at the hands of cruel humans who caged her and used her for breeding. She is resilient and despite her past, loves all people and gets along with all dogs- we call her the "dog whisperer". Her snorts and drooling tongue are infectious and she is so very lovable.
She is doing well with her potty training. If you have a fenced yard and will go out with her to potty several times a day, she will potty outside. Long morning walks are a must and are a bit challenging for Faye. She is very reluctant to walk, but after her two or three squats on her walk, she is a great walker. She needs to be crated anytime you leave the house. At present she can remain in her crate for 4 hours without having a toileting accident if she has been walked and allowed to potty previous to going in the crate. If she has not recently gone potty, she will void anywhere if you leave the room and she thinks you have left her. She can easily navigate the three flights of "carpeted" stairs. She still needs to be monitored inside and outside of the house to redirect her from eating non-food items. She loves a kibble treat each times she potties outside. Since Faye is not 100% potty trained to go outside without direction, and will probably go backwards some when she gets into her forever home, if you can't accept some accidents please don't apply for this sweet girl.
She responds to the basic command of come, especially when offered ice cubes. She is still working on sit.
Faye can be a bit mischievous and will take a bite from most anything around the house within reach. Baby proofing is a must for her so she doesn't chew on any of your valuables. She also loves to grab shoes and hide them around the house! She is easily redirected to chew on appropriate things such as nyla bones. She gets along with all three dogs at her foster home, and loves to play with them. She chases and loves to bite the ankles and ears of her foster sisters. She will chase a ball, but hasn't quite mastered bringing it back. She has a gentle nippy play style- so best she go to a home with older, or no children.
Miss Faye is an average size for a frenchie weighing in around 21lbs. She does have medical needs, seizures, which she takes a pill for twice daily. Monthly medication costs come to around $___/month...a small price to pay for a star like Miss Faye.
Faye is very much likes to be close to her humans, and she currently sleeps in her foster parents bed- she sleeps well through the night. She would love to find a forever home that would continue to let her sleep in the same bed or the same room as her parents.
How can anyone resist that tongue!
View attachment 4818
Wanna Adopt?
Please view the adoption process and fill out an application at their website ---> frenchieporvous.org
To view more available Frenchies from this rescue, click this link ---> Chicago French Bulldog Rescue
Thank you for considering adoption for your next family fur-mate!
Please let them know you found them on French Bulldog News!
Last edited: