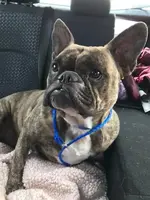 Intake Date: 1/2/2018
Last Update: 1/20/2018
Date Available: TBD
Age: 3
DOB: 1/2/2016
Gender: Female
Weight: 45 lb
Energy Level: Medium
Color & Markings: Brindle
Can go to a home with other dogs: No. I do not play well with others. I want all the attention for myself and I am aggressive with other dogs that are in my house or yard. I am ok on neutral ground as long as they don't try to steal my attention.
Can go to a home with cats:* *I lived with 3 cats previously and did just fine with them
Good with kids: BBR Policy states no children under the age of 8+ so, my ideal home will have kids that have the maturity to give me all their love.
Object Aggression: Freya needs to be the only dog in the home. She lunges and snaps at other dogs that bark near her or takes an aggressive stance toward her. She has no aggression to humans, in fact she cries if she is not in the same room. Special Needs: Daily cleaning of facial folds.
Medications: Regular heart worm and flea treatment
Crate Trained: Yes, my crate is my safe space and I will willingly go in there if told and when I am corrected I will go in and pout.
House Trained: Yes. I will let my humans know that I have to go. I will whimper to let you know I need to go. I do not like to be alone when I go out. I will scratch the door to be let back in without going. If my human goes out with me I will go 1 and 2 and then I will run around and play with you.
Physical Fence Required: I walk on a leash very well and will stay at your knee. When I am off leash I will stay near you because I am uncomfortable in unknown surroundings. If I am familiar with my environment I will run and wander. I am faster than you and I like to chase cars. A fence would be really nice but if that's not an option, I need to be leashed an monitored when outside. I can jump 4 feet high when I want to!
​Adoption Donation: $500
Prior to applying to adopt Freya please review our adoption process on our website with rules and process information.*
My Ideal Home:
My name is Freya, I was named after a Norse Goddess and my name means "Lady". I think I am a goddess and expect to be treated like one. I will give you all my love and request the same from you. I like my crate. It is where I go when I am scared, but I prefer to sit on a couch or chair next to you. I am not a lap dog but I like being lap adjacent. Being petted is my ideal state of being. I like to play with toys and carry them around, but I am not a chewer. Your furniture is safe with me. I eat twice a day, but my life does not revolve around my next meal. Being with my human is more important to me than food, but I do like a nice treat. I am looking for a forever home where my human's will love me as much as I will love them and that I am only willing to share my love with humans.
I am not a fan of sharing my humans so I will need to be an only dog.**
Intake info:*
Freya was surrendered to BBR by her loving family after Freya and her Frenchie sister could no longer get along
View attachment 4817
Wanna Adopt?
Please view the adoption process and fill out an application at their website ---> buckeyebulldogrescue.org
To view more available Frenchies from this rescue, click this link ---> Buckeye Bulldog Rescue
Thank you for considering adoption for your next family fur-mate!
Please tell them you found them on French Bulldog News!