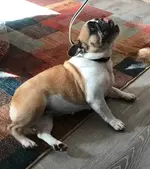 Intake Date: 8-17-18
Last Update: 9-18-18
Date Available: 9-18-18
Accepting Applications until: TBD
Age: 4 years
DOB: 8-16-14
Gender: Female
Weight: 25 lbs.
Energy Level: This depends on Jubilee's mood. Sometimes she can be feisty and other times lethargic . She enjoys being petted and loved. Some days she wants to run and play and other days she lays down and gives her human the look (don't interrupt my basking in the sun).
Color & Markings: Fawn and white
Good with other dogs: No She growls and barks at other animals. Not friendly or hospitable. She needs to be introduced to humans who visit, her manners are not always the best
Good with cats: No She does not like small moving objects or any four legged animal.
Good with kids: BBR Policy states no children under the age of 8+.
Object aggression: She plays with her bones and baby but is not possessive, aggressive or territorial with them.
Special Needs: No She was spayed and had a C-Section in August.
Medications: Heart worm medication monthly
Crate Trained: Life is best when in her crate, this is her secure spot. She also enjoys being outdoors but does not like the feel of grass on her belly. She needs to be watched when outdoors near a pond because she enjoys swimming with the fish.
House Trained: No, but has never messed in her crate. She just doesn't like to tell her humans she needs to go outdoors. She prefers to potty on rocks, not in the grass.
Physical Fence Required: No Jubilee does not wonder far from her human.
Adoption donation: $575
View attachment 4817
Wanna Adopt?
Please view the adoption process and fill out an application at their website ---> buckeyebulldogrescue.org
To view more available Frenchies from this rescue, click this link ---> Buckeye Bulldog Rescue
Thank you for considering adoption for your next family fur-mate!
Please tell them you found them on French Bulldog News!