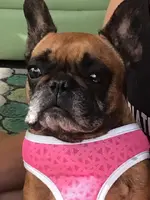 We'd like to introduce you to Maizey. We've been working on some health issues with her and we now feel comfortable that she's almost out of the woods.
Miss Maizey spent years with chronic ear infections that her prior owner didn't treat. She came to rescue with calcified ears smelling of bad cheese.
We've been working with a dermatologist vet and eye specialist. She has skin issues and her ears were completely sealed with scar tissue. Her eyes don't close all the way when she blinks/sleeps so she needs eye drops to prevent further damage to he corneas.
She endured daily eye drops, ear cleanings, feet cleaning, face fold scrubbing and a limited diet for two months. The dermatologist vet decided that she needed to see a surgeon for her ears. We were making progress with the cauliflower growths but the ear canal was still blocked and the vet feared one or both of her eardrums had been damaged. She has an unexplained head tilt and inner ear damage was assumed.
Last week she endured bilateral TECA surgery. A total ear canal ablation includes removal of the inner ear canal, flushing out all infection and sewing up the ears to prevent future infection.
She's just had her drains removed and we are waiting for her final stitches to come out next week. The vet described her inner ears as being packed with something that resembled Silly Putty.
The choice to put her through this major surgery was definitely warranted as her ear drums had been damaged and healed with raging infection behind them. Drops would have never cleared them up.
A nerve near the inner ear was infected as well and we are hoping that some of the palsy symptoms (drooling, not being able to blink and droopy face on one side) will lessen with each passing week.
She's had a rough go since she's come into rescue but she's taking each new step in stride. Her pain will be eliminated permanently, but unfortunately, so may also be her hearing.
The rescue typically isn't financially ready to handle a major health case like this. We have a generous benefactor that has offered to match donations to pay off Maizey's vet bill.
She's currently running a vet tab over $4000. We couldn't wait to have her ears done and we hate to ask for help.
It's little peanuts like Maizey that deserve a chance at a new life. She's been suffering with ear infections while being repeatedly used as a baby machine. She was then sold on Craigslist when she became too painful to handle....or maybe stopped producing.
Welcome to your new life Miss Maizey!!
View attachment 4819
How To Adopt:
Please view the adoption process and fill out an application at their website --->
https://almosthomebulldogrescue.org/
Contact on facebook--->
https://www.facebook.com/AlmostHomeBulldogRescue/
To view more available Frenchies from this rescue, click this link ---> Almost Home
Thank you for considering adoption for your next family fur-mate!
Please let them know you found them on French Bulldog News!