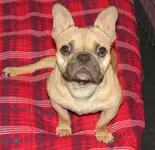 SPECIAL NEEDS- HAS NO CONTROL OVER HIS BLADDER OR BOWELS- ON A STRICT DIET OF RAW FOOD ONLY- GOOD WITH OTHER DOGS AS LONG AS THEY ARE NOT HYPER OR DOMINATE. NO SMALL CHILDREN YOUNGER THAN 16. PLEASE READ HIS INFO BEFORE APPLYING FOR NICHOLAS.
Meet Nicholas- he is a Black Masked Fawn puppy that came to us from another rescue due to his special needs. His breeder brought him to a vet down south to be euthanized due to him walking down on his hocks and limited mobility as a pup. The vet down there put him up for sale on a trade page where another rescue got him and asked if we would take him in since we have experience with several special needs frenchies.
Nicholas came to us leaking diarrhea and blood 24/7 and very weak in the rear end. With therapy-he has gotten strong and can run and walk and jump with no need for assistance or a cart or anything else at this time. His left rear foot has rolled to the side due to the way his spine and knees are and cannot be surgically repaired but it doesn't slow him down in any way at all. He loves to run- jump and play like a normal pup- Nicholas doesn't realize he was born with faults- he loves life.
His spine is fused right before his tail- this is not fixable by surgery and it has left him with no idea of when he is peeing or pooping. He can wear a belly band to catch any pee he may have. After working on numerous food trials- we have found that feeding him only Raw Bistro Bison- he now has solid formed poops. If you exercise him outside and watch him- he usually empties out his bowels nicely and they are easy to pick up- any changes in his diet will give him diarrhea-so if you adopt him- he will need to always stay on this particular brand of raw and the one protein.
He will be a small boy but makes up in his big personality. Nicholas is a clown and quite a character- he loves life and everything is fun in his mind. He can entertain himself nicely in his x pen chewing on his antlers or playing with his toys.
Our vets feel he will always be mobile and won't ever need a cart. He gets along great with other female frenchies- not sure how he would do with other breeds but he seems to just roll with whatever he encounters. He rides nicely in a crate in the car- did well under anesthesia for his neuter- loves going to the vet and meeting new people. Everything is an adventure to Nicholas.
It will take someone who is patient and willing to deal with the fact that he will always be incontinent his entire life and has no idea when he is peeing or pooping.
Nicholas's need in his forever home:
No small children
Does better with female dogs than male dogs but has gotten along with several male dogs if they aren't pushy.
Someone patient and willing to deal with his being incontinent the rest of his life.
Have the energy to deal with his puppy energy and enthusiasm for life.
View attachment 4818
Wanna Adopt?
Please view the adoption process and fill out an application at their website ---> frenchieporvous.org
To view more available Frenchies from this rescue, click this link ---> Chicago French Bulldog Rescue
Thank you for considering adoption for your next family fur-mate!
Please let them know you found them on French Bulldog News!