Well-known member
Staff member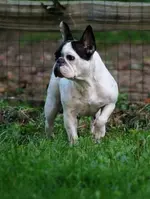 *** PLEASE NOTE: We are only taking applications on Zoe for ONE WEEK, thru November 22. We anticipate receiving several apps for her, so please only apply if you feel you are an appropriate fit (i.e., you MUST have a fence). Please also have an understanding that due to the volume of apps we may receive for Zoe, you may not be selected. Thank you!! ***
Intake Date: 7/31/14
Last Update: 11/15/14
Age: 3
DOB: Unknown
Gender: Female, Spayed
Weight: 25 pounds
Energy Level: High but she is calm in the house
Color & Markings: White with black
Good with other dogs: Yes
Good with cats: Yes
Good with kids: Unknown - but probably
Object Aggression: None
Special Needs: Was treated for being heartworm positive. All treatments are finished but she will need retested one final time at adopters expense in March. Test costs approx $50.
Medications: None
Crate Trained: Yes
House Trained: Yes
Other requirements: Fence required (electric fence not acceptable)
Adoption donation: $600
November 15 update: Zoe continues to do well in her foster home & she is doing great since receiving her final heartworm treatment! Zoe is a bit of a noisy breather due to having an elongated palate. This is something we have elected not to have corrected, because the surgery could be dangerous for her. It's something for the adoptive family to keep in mind, and as a reminder not to "over-exercise" her. Her foster mom says this about her: Zoe is a sweet, stubborn, cuddly, goofy, playful, ball of love!
November 2 update: Zoe is doing well since staring her heartworm treatment & has been coming out of her shell. She will need a home with a fenced in yard. While she in not one to "bolt" away running, she VERY independent. Zoe doesn't like to stay or come unless she feels like it; treats help but are not fool proof. She's also VERY fast without those heartworms slowing her down. Zoe loves to explore outside and only selectively hears you call for her.
October update: Zoe is 2 weeks into her second round of heartworm treatment. Round two was a lot tougher on her than the first. But she's regaining her usual personality. She has more recovery and an oral treatment to finish up before she can get her nose fixed so she can breath better. She loves to sleep under the covers now that it's getting colder, and she is always up for a car ride even if its just around the block. Zoe is an expert cuddler!
August update: Zoe is a fun-loving sweetheart. She is curious about everything and determined to meet and play with every person and every animal she sees. She is also an expert cuddler and loves to spend time on the couch or on the bed hanging out. She is energetic and loves toys and playtime, but has to be kept semi quiet for now because of the heartworms/treatment and her breathing difficulties.
Intake info: Zoe is a 3 yo Frenchie who was being used for breeding and when she could no longer produce puppies, she was sold on Craiglist (a few times) and a kind man who bought her decided to surrender to us when she and his pug weren't getting along too well. After further evaluation at the vet, it was discovered that she has severe heartworms and will need treatment and eventually correction of her stenotic nares and palate. She has a long road to recovery but we'll do the best we can for her!
Wanna Adopt?
Please view the adoption process and fill out an application at their website ---> buckeyebulldogrescue.org
To view more available Frenchies from this rescue, click this link ---> Buckeye Bulldog Rescue
Thank you for considering adoption for your next family fur-mate!
Please tell them you found them on French Bulldog News!