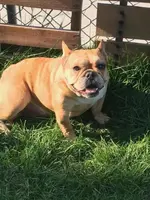 Requirements needed for Tinley are FENCED YARD- OLDER CHILDREN- OTHER DOGS BUT THEY MUST NOT BE DOMINATE OR HYPER, DOES REALLY WELL WITH OTHER FRENCH BULLDOGS. PATIENCE WITH HER POTTY TRAINING AND FEAR OF MEN. TINLEY IS ON THE LARGER SIZE FOR A FRENCHIE TOO.
Hi, my name is Tinley. Miss Tinley is a very special, precious girl. Her standard bio would read that she is 3 years old, spayed, almost potty trained, current on her vaccinations, micro chipped, friendly with dogs, is a great eater, loves positive training, and enjoys playing ball. But to love Tinley is to know that she has had a very traumatic, abusive past at the hands of cruel humans who caged her and used her for breeding. She loves people, but is still very hesitant towards males unless a female is present. When approached from above she will often sprawl out or roll over out of uncertainty, but does better when approached on her level. She prefers to remain in her foster parents bedroom on her dog bed, but will emerge from the room when she wants to play or to snatch a toy
She is doing well with her potty training. If you have a fenced yard and will go out with her to potty, or take her for morning walk, she will potty outside. Otherwise, she will go on a pee pad in the house. She can easily navigate the 3 flights of "carpeted" stairs, but unless prompted to go outside, would prefer to use the pee pad inside out of convenience. She will also use pee pads when you are not home. Tinley is not 100% potty trained to go outside and will probably go backwards some when she gets into her forever home-so if you can't accept some accidents- please don't apply for this sweet girl. She may also regress to some submissive peeing when approached (little dribbles in her bed).
She responds to basic command of come and sit, especially when offered ice cubes. She enjoys her daily morning walk, but still needs prompting sometimes to leave the house. She will leave the house willingly when no males are present. She responds much better to females and does better with children over the age of 10 as she can be a bit nippy when playing.
Tinley can be a bit mischievous and will take all of the pet toys, bones and balls from around the house and hide them near her bed! She loves to chase tennis balls and chew on nyla bones. She gets along with all three dogs at her foster home, and is beginning to play with them. She is often indifferent to them and prefers to remain in her bed most of the day. She will play with the dogs if they initiate the play. She can become aggressive towards the other dogs if they try and steal her toys.
Miss Tinley is on the larger size for a frenchie weighing in around 35 lbs. Out of state applicants if approved will not be able to fly her home and will be expected to drive to finalize their adoption.
Tinley gives big slobbery kisses and she currently sleeps in her bed on the floor in her foster parents bedroom. She loves to be brought into the big bed with her foster parents for a late night cuddle session, but is unable to jump up or down safely on her own. She would love to find a forever home that would continue to let her sleep in the same room as her parents.
Adoption requirements for any adoptive home considered for Tinley:
- Structurally secure fenced yard which is safe and attached to the house with easy in and out for Tinley or access to pee pad. - At least one or two resident dogs that are BALANCED AND COMPLETELY DOG-FRIENDLY WITH NO ISSUES. Resident dog(s) must not be hyper, must not bite, and cannot have any guarding or aggression issues of any kind.
View attachment 4818
Wanna Adopt?
Please view the adoption process and fill out an application at their website ---> frenchieporvous.org
To view more available Frenchies from this rescue, click this link ---> Chicago French Bulldog Rescue
Thank you for considering adoption for your next family fur-mate!
Please let them know you found them on French Bulldog News!