Well-known member
Staff member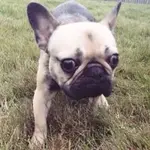 BIO:
Cooper is a young, lively French Bulldog that is very sweet and completely adorable!
Cooper was surrendered by his owner due to a diagnosis of megaesophagus. We will be consulting with IBR's veterinary partners regarding a treatment plan for him so that his condition can be managed appropriately.
JANUARY UPDATE: We are working on finding a solution for Cooper to keep him healthy and happy despite his megaesophagus. This condition causes him to regurgitate his food and water after every meal. When he vomits, he risks aspirating it into his lungs and causing more problems. He is currently only 15 pounds because of it.
Cooper was recently neutered and his nares were widened to help with his difficulty breathing.
Despite his health issues, Cooper is so much fun and still very much a puppy! He is good with kids, dogs and cats. He is crate trained and his foster mom is working with him on being completely house trained.
HOW TO ADOPT:
Please view the adoption process and fill out an application at their website ---> indianabulldogrescue.com
To view more available French Bulldogs from this rescue, click this link ---> Indiana Bulldog Rescue
Please let them know you found them on French Bulldog News! :up: