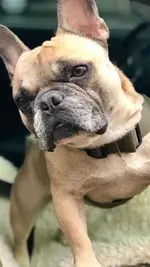 Meet George. About me: They call me George. My foster mom also calls me "Bubba" but just don't call me late for dinner . I've had two homes so far and that's a lot for being only 4 years old. A lady who just had a baby couldn't take care of me, so she called CFBR. Before that it was said that I was owned by a vet in Canada. But now that's behind me and I'm looking for my forever home.
I'm higher energy, very smart and very curious. I take some time warming up to you, but once comfortable, I'm yours forever. I am not a huge cuddler, but I love to rest against you and lean my head on your leg or foot. I love to be a part of everything that goes on in your life and home. I am learning to be crate trained and sleep through the night in there. But I confess I don't really like it and I sometimes holler if you put me in there, especially during the day, so you are going to have to work with me on that. I love toys, empty Pellegrino bottles, car rides, all kinds of treats but most of all I love my humans.
I am a wonderful boy because I am a rarity in the Frenchie world, as I am very good about NOT going in the house. That being said, I am NOT a wonderful boy at the vet. In fact, it's the worst thing ever. You are going to have to buy a basket muzzle for me when you take me there, because I have tried to bite the vet or the vet tech. This goes for nail trims too. My foster mom says that I am not a mean boy, I am just a sensitive boy and I get super scared. I don't care about other dogs one way or the other, and my foster mom was told that while curious about cats, I don't really care about them either. I do need a few obedience classes but as my foster mom says, I am smart, so I will be at the top of my class. I can already "sit" and "give paw" so I'm well on my way!
It seems that there was an incident in the summer of 2017 that no one can figure out. It left me with a head tilt (which makes the ladies swoon) possible deafness in one ear and an eye that doesn't close all the way. I'm currently on thyroid medicine to see if that will fix it but it may never go away. However, none of this stops me from living my best life!
I don't like when you take things from my mouth and I must be corrected without touch, but the more I get to know you, the less you must worry about me reacting. But that's why I shouldn't be in a home with children.
About you: You are an experienced dog/Frenchie owner who lives in a single-family home. You have family with older kids and probably work from home, because I like people to be home--I have a touch of separation anxiety. You love taking me for walks. You don't want a typical couch potato Frenchie. I'm agile and active. A yard is not a must, but since I do tend to holler a bit when separated, a single-family home is probably best, so I don't annoy the neighbors. You LOVE having dogs sleep in bed with you, because that is my absolute favorite thing. Also, you won't mind giving me daily eye drops to combat dry-eye because my one eye doesn't close all the way. So, I'm a little high maintenance, but hey I'm a Frenchie and I promise I'm worth it.
My adoption fee is $700 but you will get back $100 after proof of completion of obedience training.
View attachment 4818
Wanna Adopt?
Please view the adoption process and fill out an application at their website ---> frenchieporvous.org
To view more available Frenchies from this rescue, click this link ---> Chicago French Bulldog Rescue
Thank you for considering adoption for your next family fur-mate!
Please let them know you found them on French Bulldog News!