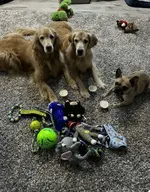 Happy 4th Birthday to little Rusty.
He got a new harness and Rusty and the golden retrievers got dog frozen goat ice cream!
I never would've thought Rusty would be able to carry the big green soccer ball in his little mouth, only to kick it around, well that was the first thing he carried! It looks so funny, it's bigger than his head, but I can't get it on photo🙂
Rusty has such a amazing personality, Frenchies are the best!